dhtmlxSuite is a JavaScript UI library used for creating feature-rich and powerful user interfaces. The latest version is 5.1, find out what's new
Why To Choose DHTMLX Suite
Cross-Browser Apps
The cross-browser JavaScript UI library allows you to build rich Ajax-based web UI for all major browsers: Microsoft Edge, Internet Explorer 8+, Firefox 0.9+, Safari 2.0+, Chrome, Opera 9.0+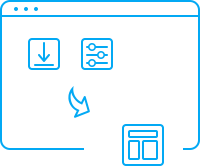 Short Learning Curve
Due to a short learning curve, intuitive API and detailed tutorials, DHTMLX allows you to develop cross-browser, interactive web apps faster and with less effort.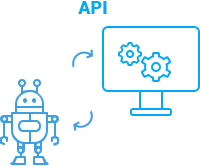 No Deep OOP Structure
Our JavaScript library has simple, but very powerful API. The control is performed through the components themselves that greatly simplifies the work with UI library.
Cross-platform Web Apps
Build cross-platform web applications by the means of one library. Open a cross-devices CRM demo application on different devices to learn how can it look like.
TypeScript Support
JavaScript UI library supports TypeScript and allows you to use type checking to write a more stable code. The typescript definitions are included in the Suite package.
Optimus JS Micro-framework
Develop your DHTMLX-based apps with dhxOptimus, extremely fast and lightweight js micro-framework. Easily customize these applications and quickly handle them due to high flexibility and simple code maintenance.
Fast Prototyping with Visual Designer
The Visual Designer tool offers a simple way to compose an application user interface with the DHTMLX UI widgets without writing a line of code.
Customizable Appearance with Skin Builder
You can use the online Skin Builder tool to easily change the skin type, font, and colors for the skins.
Integration with IDEs
We offer DHTMLX autocompletion plugins for the major IDEs (Microsoft Visual Studio, PHPStorm, WebStorm, NetBeans, Aptana Studio, Eclipse, etc.). Download the plugins and read the installation instructions here.
Server-Side Integration
As a client-side library, Suite can be used with any server-side technology. To simplify integration with the server side, we offer Connectors for PHP, ASP.NET, Java, and ColdFusion. DHTMLX can be also used with node.js to enable live updates in your app.
Editions and Licenses
Standard Edition GNU GPL v2
Free under GPL
Grid Standard

Tree Standard

Use in unlimited projects
Forum support
Minor and Major updates
Professional Edition Commercial license
Grid PRO

Tree PRO

+ TreeGrid PRO

Use in one project
Standard ticket support
1 month of updates

(minor, major, bugfixes)
Favorable terms
for companies
Professional Edition Enterprise license
Grid PRO

Tree PRO

+ TreeGrid PRO

Use in unlimited projects
Premium ticket support
12 months of updates

(minor, major, bugfixes)
Demo Apps & Learning Resources
To demonstrate the rich possibilities of DHTMLX UI Library components and to show how they work within a common user interface, we've created some demo applications
More than 1200 online technical samples for almost all UI components' features.
We provide step-by-step tutorials that focus heavily on fundamental and frequently encountered development questions and needs. It can serve beginners to get acquainted with the library and experienced users to quickly dive into the topic of interest.
Our detailed documentation can learn how to use JavaScript components and effectively implement them in your own applications. It provides the detailed information regarding each aspect of the product.
Need help with dhtmlxSuite integration into your app? Contact us