DHTMLX JavaScript To Do List
for Effective Task Management
Use a to do list in JavaScript/HTML 5 to manage and prioritize your tasks. Hook the component up to DHTMLX Gantt
and allow users to quickly organize their business processes in a simple and intuitive way.
Features of DHTMLX JavaScript To Do List
Nesting
Create a nested checklist containing multiple tasks with subtasks.
Assigning participants
Add a participant to those tasks that require an action by a particular team member.
Task filtering
Track active or completed tasks by setting an appropriate filter.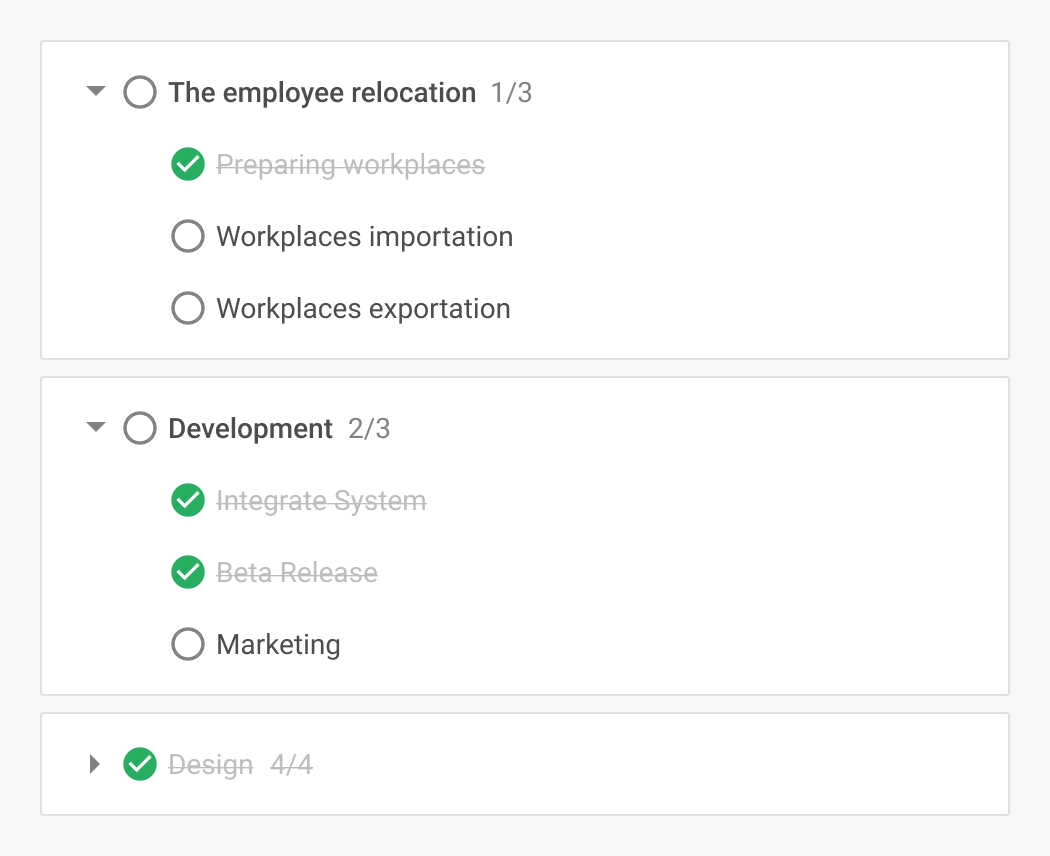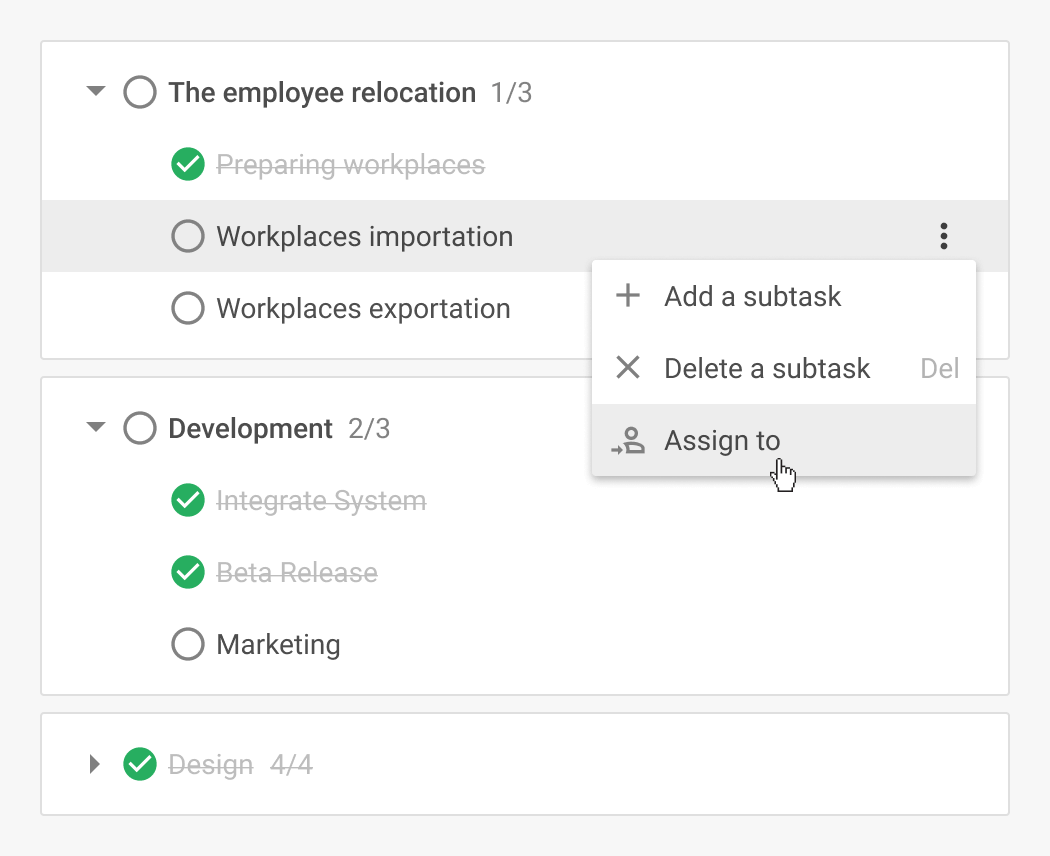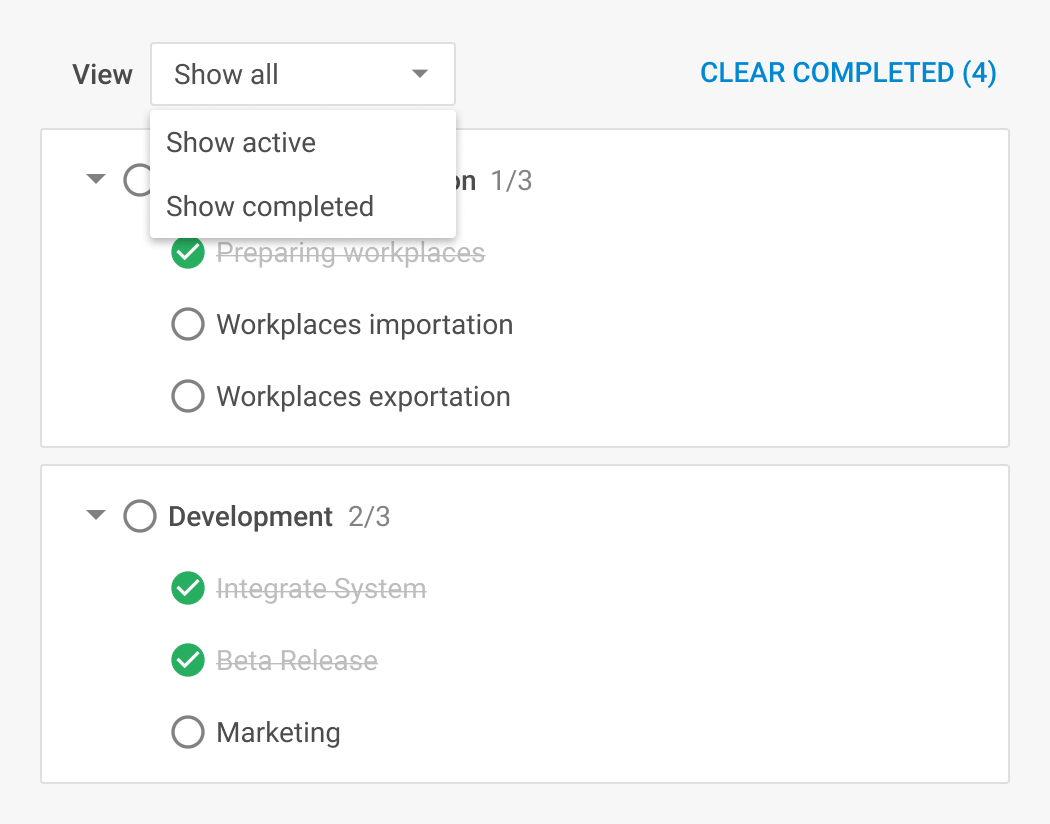 Rich JavaScript API
Fully-fledged configuration
Integration with DHTMLX Gantt
Checkbox customization
Drag and drop of items
Expanding/collapsing all subtasks
Calculating the number of completed tasks
Ability to clear completed checklist items
Adding start/due dates
Easy integration with React, Angular, and Vue.js
Why Choose DHTMLX JavaScript To Do List Component?
Multi-featured to do list in pure JavaScript
With the DHTMLX check list, you can create a perfect structure for your JavaScript projects. All your tasks will be available in one single scrollable list. You can click a corresponding checkbox to complete the task. Our checklists support nested items, meaning each of them can contain several subitems. You can assign an observer or a participant, set start and due dates, and filter items by their status. Unnecessary and completed tasks can be removed one by one or with a single mouse click.
Rich customization options
Do you need to apply brand colors to your task list? No problem! DHTMLX to do list component has a rich API so it's simple to customize to fit your project requirements. The look and feel of the whole HTML 5 to do list is fully modifiable. You can manipulate the checkbox controls, set task shape and size as well as apply custom colors to any element.
Smooth integration with DHTMLX Gantt chart library
You can combine the DHTMLX checklist component with our first-class Gantt chart JS library. DHTMLX Gantt is a multifunctional and high-performance solution for project management and resource tracking applications. Having added our simple to do list JavaScript widget, you illustrate the activities that have to be done alongside any important milestones. Thereby, the successful delivery of your project will be much easier and time-efficient.
DHTMLX To Do List Pricing
Commercial
Enterprise
Ultimate
License Terms

Commercial

Enterprise

Ultimate

Developers

Commercial

5

Enterprise

20

Ultimate

Projects

Commercial

1

Enterprise

5

Ultimate

SaaS

Commercial

Enterprise

Ultimate

Perpetual distribution rights

Commercial

Enterprise

Ultimate

Support Plan

Commercial

Standard Support

Enterprise

Premium Support

Ultimate

Ultimate Support

Time Period

Commercial

1 year

Enterprise

1 year

Ultimate

1 year

Updates

Commercial

Minor & major updates

Bug fixes

Enterprise

Minor & major updates

Bug fixes

Ultimate

Minor & major updates

Bug fixes

Emergency bug fixes

Tickets

Commercial

10

Enterprise

30

Ultimate

Response Time

Commercial

72h

Enterprise

48h

Ultimate

24h
| | | | |
| --- | --- | --- | --- |
| Personal Account Manager | Commercial | Enterprise | Ultimate |
| | | | |
| --- | --- | --- | --- |
| | Commercial | Enterprise | Ultimate |
Need help with To Do List integration into your app? Contact us
Try DHTMLX JavaScript
To Do List
Free of Charge for 30 Days