We are proud to present a new DHTMLX release and have good reason for it – the new DHTMLX has been outfitted with all the components it needs to be a complete toolkit for building rich, Ajax-based web applications. With the new version 2.6 of our JavaScript UI library, you can develop any kind of web interface, in terms of both functionality and design. And if you think that's all, the answer is no!
Let's jump below for a glimpse at the Top 10 notable improvements:
1. New Components
The library was enriched with three new JavaScript components: dhtmlxForm, dhtmlxChart, and dhtmlxDataView (which replaces dhtmlxFolders, but with much wider possibilities). Each of them will facilitate your work and save you time and effort.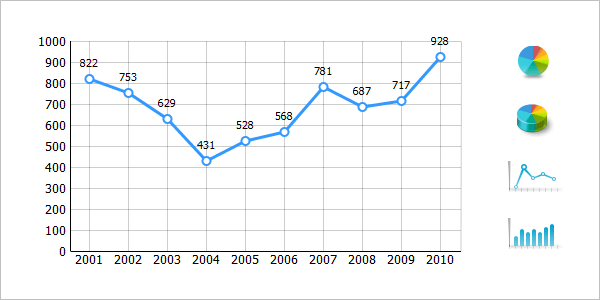 2. dhtmlxConnector 1.0
With this release we're offering an update to our dhtmlxConnector: dhtmlxConnector 1.0.
Now you have all you need for server-side integration. All server work can be done with the dhtmlxConnector component, and now even more features are available: server-side grid configuration, multi-user sync, grouping connectors, and much more.
3. Compatibility with Touchscreen Devices
Touchscreen technology enters our lives at an ever-increasing rate, and we at DHTMLX stay abreast of the times. With the latest version of DHTMLX, you can develop applications for touchscreen devices (such as the iPad) right now, and in the near future full touchscreen support will be at your disposal.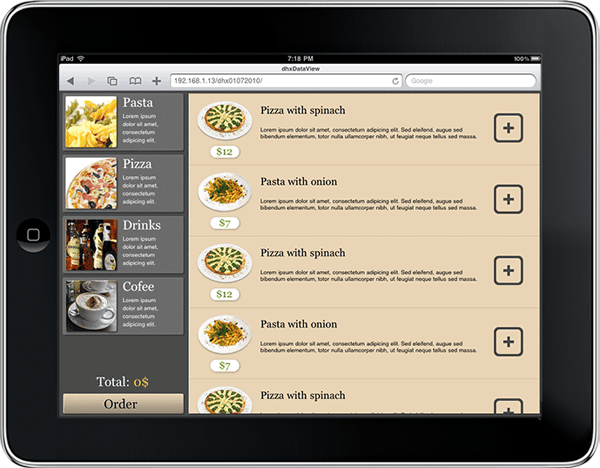 4. Variety of Improvements
We've made more than 150 different adjustments all over the library to improve performance – optimized memory usage, expanded functionality, rectified shortcomings, etc.
5. Improved Skin Builder
Skin Builder has become even better. Many new features – including the much-requested font control – were added.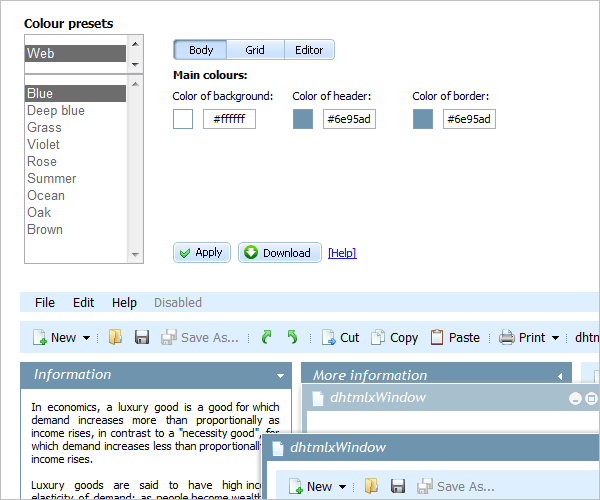 6. Google Maps in Your Web Application
We simplified the development of geolocation applications. Now you can add Google Maps to your web application easily. You can, for example, integrate Google Maps into the Layout panel.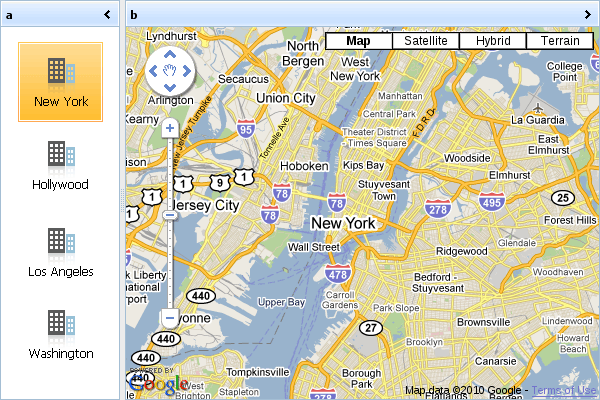 7. Support for Major Web Browsers
New browser releases come out constantly, and we refresh our list of supported browsers accordingly. So we can confidently say that all the latest versions of popular browsers are supported (including beta versions).
8. New Skin
Now you have one more variant of component design which you can choose for your web application. Introducing a new family of skins: dhx_web. The skin provides a clean and simple look for all DHTMLX components.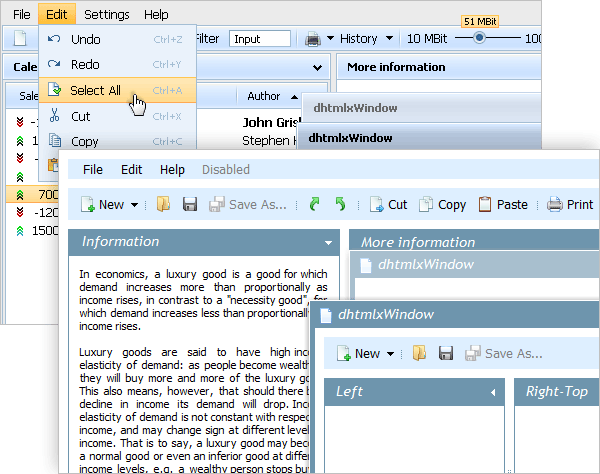 9. RTL Support
In a global world, web applications often need to support multiple languages, including ones with right-to-left writing. Don't worry – DHTMLX can help. All major components of DHTMLX v2.6 can be switched to RTL mode with a single command line.
10. Server-Side Data Export to PDF or Excel
Imagine you have some data on the page that you want, for example, to print. Now you can do it. DHTMLX gives you the option to export and save data to PDF or Excel format just by clicking the appropriate button.
If you want to see the full "What's New" list for DHTMLX version 2.6, please go to this page.
We hope you enjoy this new release of DHTMLX!