Hello everybody! We'd like to keep the users of ourJavaScript widget library – DHTMLX Suite – informed about what is going to be released in future updates, what improvements and integrations we are working on now.
One the one hand, dhtmlxSuite library seems to be full-featured and powerful enough to meet the requirements of business application development, on the other hand, the modern world doesn't stand still, and DHTMLX needs to follow up the technologies as well.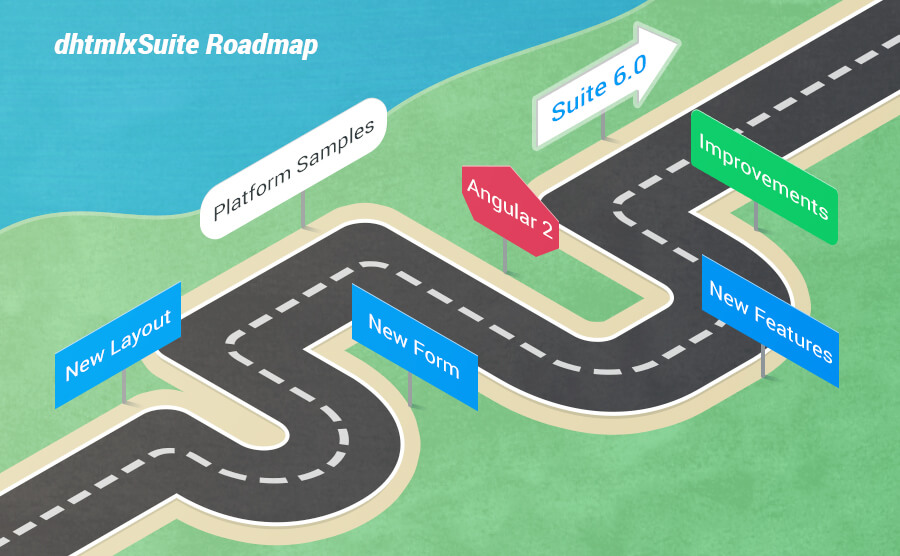 Considering this, we are preparing updates of Layout and Form, the essential components of the Suite library. Moreover, we started preparing samples of AngularJS 2 integration, and are going to provide more samples that show server-side integration (PHP, Node.js, ASP.NET).
Form and Layout to be flexible and responsive
The development of web applications structure will become simpler and more flexible: dhtmlxForm and dhtmlxLayout are going to be fully updated. It'll bring them that responsiveness and flexibility that many of you're looking for. If you are already using these controls, don't worry – the updated form and layout will be backward compatible.
Platform Samples
We are happy to inform you that the examples of using our UI library with the most popular server-side platforms are on their way. You'll get a set of ready-to-use samples that are already integrated with PHP, Node.js and ASP.NET platforms, so all that will remain to do is to grab them into your application.
AngularJS 2 Support
JavaScript world will never be the same – Angular 2 crashed into 2016 with the final official release. To let Angular fans use our powerful UI components in their web applications, we are working on the AngularJS 2 wrappers now.
It's just a part of updates that we plan to add to the library. We are going to provide you more detailed plans and release dates as soon as possible. Stay tuned!