Hello friends! 2016 was bright and remarkable year for our company and we want to summarize what has happened and what our plans are for 2017.
dhtmlxSuite
Our JavaScript library for creating enterprise web applications acquired modern Google-like look, new TreeView component, Font Awesome support and its own Form Builder tool. All these features were released as part of 5.0 Major Update, but we are already excited about future 6.0 that will bring us fully updated and responsive Form and Layout. More details will be published soon, and the start of first Beta tests is planned.
dhtmlxGantt
Accessibility support, performance improvements, updated critical path calculations and auto scheduling – that's what 2016 and dhtmlxGantt developers brought us. But surely we won't stop at this and have already started preparing a major 5.0 update with the features like inline editing in grid, configurable layouts, material design and more.
dhtmlxScheduler
A couple of years ago we achieved that point of dhtmlxScheduler development, when the calendar has everything you might need. That's why 2016 was directed at support for existing functionality and some small fixes and improvements. Nevertheless, we are about to release 4.4 with Accessibility support and some other improvements. Besides, our team started working on Major 5.0 version that will give you a completely new experience of the event calendar you know.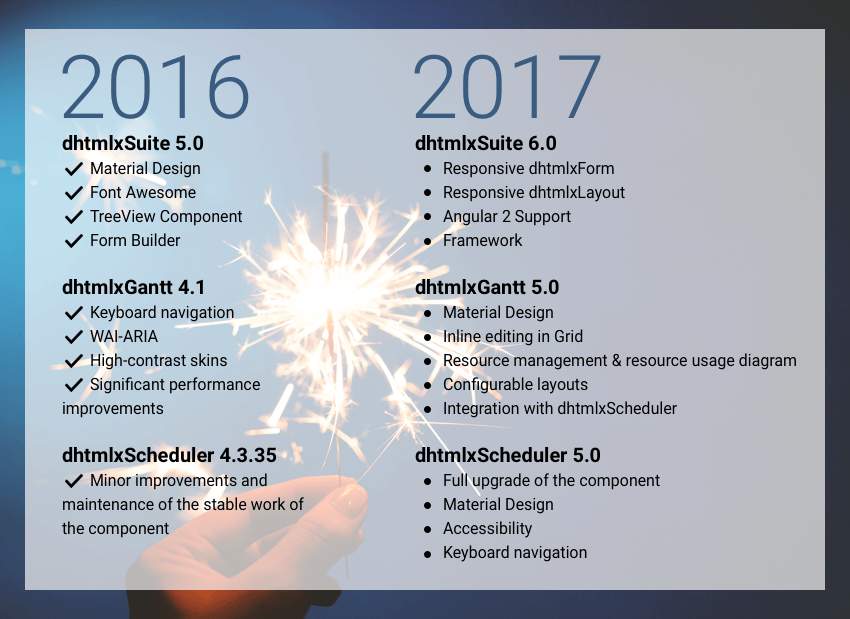 What is more
2017 will begin with PHP and ASP.NET Platform Samples, new framework and some useful educational material in our blog. Don't forget to follow us on Twitter, Facebook and Google+ to be the first to know what's new.
And wishes. From all of us
Let 2017 bring you interesting projects, personal development and lots of joy. We hope you'll share the most important events of the upcoming 365 days with us. See you next year!