We are very excited to present a new DHTMLX component that later on will be included in the DHTMLX JavaScript widget library. This component represents a layout with the possibility to drag-and-drop its cells.
So, meet dhtmlxPortal!
We want you to try the beta-version of this new JavaScript UI component and tell us about your experience. What should you know about it before trying?
dhtmlxPortal provides you the ability to re-order the cells in the layout at any time without the necessity of coding. You just drag the cell and drop it to the needed position.
As well as dhtmlxLayout, dhtmlxPortal provides a set of build-in patterns that are set on the init stage.
Two types of drag and drop
Live Drop – in this mode while dragging the item, you see its "preview" at the place of future drop.
Markers – in this case possible positions for dropping are highlighted during the dragging.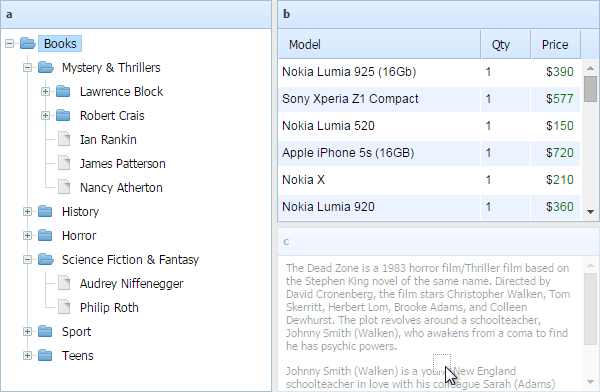 Click to open the live demo
Moreover, with dhtmlxPortal you have an ability to add and remove the cells dynamically.
Though the new component is in the beta-version now and it's not included in the DHTMLX library yet, it can be easily integrated with other DHTMLX components.
The functionality of dhtmlxPortal can be extended with other useful features. We are very grateful to you for your feedbacks, bug reportings and suggestions. That's why we'd like to introduce this new component to you before the official release and before making it a part of the dhtmlxSuite library.
So, please download dhtmlxPortal Beta version here.
Check the live demo that may help you to start working with the component.
Feel free to leave your feedbacks and suggestions in the comments section below, on the forum or write us at support@dhtmlx.com.
As soon as we collect all the opinions and create a full-featured component, it will be officially included in the new version of dhtmlxSuite.