We are pleased to announce a new version 1.2 of dhtmlxTabbar, a DHTML JavaScript web control which allows to create cross-browser Ajax-powered navigation tabs. The most significant improvements of this version include ability to set custom style for individual tab, auto size of the tab basing on label text size, auto positioning of multiline tabs and 'close tab' button.
DHTMLX team has released version 1.2 of its Ajax/DHTML tab control dhtmlxTabbar. This JavaScript component provides a simple solution for creation tabbed interfaces with advanced features including dynamic loading of tab content, multiline tabs, scrolling, different tabs alignments, various visual styles, etc. Tabbar is cross-browser compatible and can be easily implemented in any web application.
Version 1.2 of dhtmlxTabbar introduces some new features:
– Custom style for each tab – Now different styles can be defined for individual tabs, so there're more opportunities for tabbar customization. Each tab can have it's unique styling.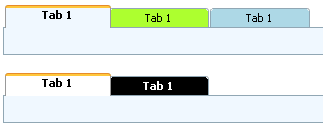 – 'Close tab' button – Version 1.2 of dhtmlxTabbar adds the ability to close a tab just clicking the 'close' button which simplifies user interaction with tabs.
– Auto tab positioning – In case of multi-row tabs the tabbar automatically places tabs on different rows. Developer just defines the max number of tabs per row and they are positioned according to the settings automatically.
– Auto size of tab – The size of each tab can be automatically adjusted to the length of tab label text.
– Different loading modes within one tabbar – Tab content can be loaded from server and automatically placed on page using Ajax. It is possible now to mix any 'href' based loading mode and static HTML tabs.
Besides new functionality, version 1.2 contains numerous bug fixes and provides better stability and performance.
dhtmlxTabbar is available under GNU GPL (Standard edition) and Commercial/Enterprise licenses ($69/$199). More information and live examples are available on tab control homepage.