Meet DHTMLX Gantt 8.0 with Improved Resource Management, Updated Auto Scheduling and Slack Calculation, New Design for Samples, and More
React
High-Performance React JS Gantt Chart
Build a performant React JS Gantt chart for managing projects with thousands of tasks with DHTMLX Gantt.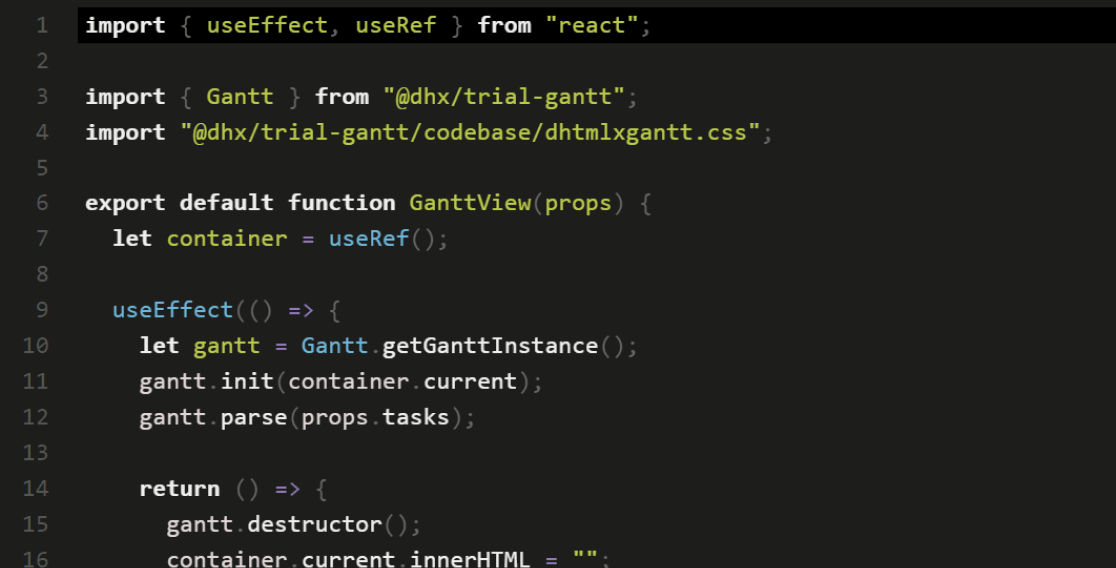 Try DHTMLX React JS Gantt Live Demo









Be among those who successfully use DHTMLX Gantt and create tools for managing thousands of projects worldwide.
How to Create React Gantt Chart
4 steps to start with DHTMLX Gantt in React JS:
1.
Create a React component for Gantt and import Gantt and its CSS file.
2.
Create the Gantt instance in the useEffect method and add the Gantt configuration there.
3.
Destroy the Gantt Instance in the same method in the return function to clean up when Gantt is no longer needed.
4.
Return the container for Gantt.
Features of DHTMLX React JS Gantt Chart
Pro edition
Add-ons
Standard edition
Node.js server module
You can complement DHTMLX Gantt with a Node.js server module used for working with Gantt charts on the back-end. It allows integrating data with complex CRM or ERP systems, synchronizing collaboration of multiple users, and performing all kinds of Gantt-related calculations on the fly.
Why Choose DHTMLX React JS Gantt Chart?
User-friendly initialization
Whether you're a JavaScript expert or an entry-level developer, starting your work with DHTMLX Gantt is straightforward. You can initialize the component with a few lines of code and easily set desired functionality. Detailed guides, demos, and video tutorials are available to help you.
Complete feature set out of the box
DHTMLX Gantt is a feature-rich library for building project management web apps. You can benefit from different task types, comprehensive scheduling techniques, and efficient resource management. Besides, its clean UI requires no additional customization.
Fully customizable
A comprehensive API of the DHTMLX React JS Gantt chart permits you to customize each and every element: time scales, timeline area, grid, taskbars, and edit form. API properties allow you to control the size of scales and cells. You can add markers and tooltips to enrich project visualization.
Stable and high-performance
When dealing with large projects that consist of thousands of tasks, robust and flawless performance is of utmost importance. DHTMLX Gantt loads any number of tasks within seconds and ensures smooth rendering due to smart rendering and dynamic loading.
Cross-browser and adaptable
DHTMLX Gantt provides cross-browser compatibility, ensuring consistent experience across Chrome, Firefox, Safari, and all Chromium-based browsers, including Microsoft Edge, Opera, and Vivaldi. The library is also compatible with any front-end or back-end technology.
DHTMLX Gantt Licensing
Commercial
Enterprise
Ultimate
License Terms

Commercial

Enterprise

Ultimate

Developers

Commercial

5

Enterprise

20

Ultimate

Projects

Commercial

1

Enterprise

5

Ultimate

Use in SaaS (unlimited end-users)

Commercial

Enterprise

Ultimate

Use in Salesforce

Commercial

Enterprise

Ultimate

Perpetual distribution rights

Commercial

Enterprise

Ultimate

Support Plan

Commercial

Premium Support

Enterprise

Premium Support

Ultimate

Ultimate Support

Time Period

Commercial

1 year

Enterprise

1 year

Ultimate

1 year

Updates

Commercial

Major, minor, and maintenance updates

Enterprise

Major, minor, and maintenance updates

Ultimate

Major, minor, and maintenance updates

Priority queue for bug fixing

Support requests

Commercial

30

Enterprise

50

Ultimate

Response Time

Commercial

48h

Enterprise

48h

Ultimate

24h

Personal account Manager

Commercial

Enterprise

Ultimate
Functionality

Commercial

Professional

Enterprise

Professional

Ultimate

Professional
| | | | |
| --- | --- | --- | --- |
| 16 PRO features | Commercial | Enterprise | Ultimate |
Several Gantt charts on 1 page

?

This feature enables creating and destroying instances of Gantt, what is especially common for Angular, React, and other frameworks.

Commercial

Enterprise

Ultimate

Online export to PDF/PNG without watermark

Commercial

Free for 1 year

Enterprise

Free for 1 year

Ultimate

Free for 3 years

Free local PDF/PNG export module

Commercial

Enterprise

Ultimate

Free local module for MS Project export/import

Commercial

Enterprise

Ultimate

Free Node.js Gantt server module

Commercial

Enterprise

Ultimate