We are happy to inform you that our JavaScript Gantt Chart, dhtmlxGantt, is updated to the version 3.2! With this update, we continued extending the functionality and greatly improving the performance.
Tasks Grouping
Since 3.2, you can group tasks in gantt by some property. It will be useful for estimating the project from each aspect. For example, you can group tasks by owner and see the workload of each person involved in the project. Moreover, grouping of tasks supports multi-level grouping.


Multi-task selection
With added multi-selection feature, it's easy now to organize the structure of the whole project as you can make some actions on several tasks at once. You can add hierarchy to the project by choosing several tasks and indent them making them subtasks, and vice versa – outdent the tasks making them projects.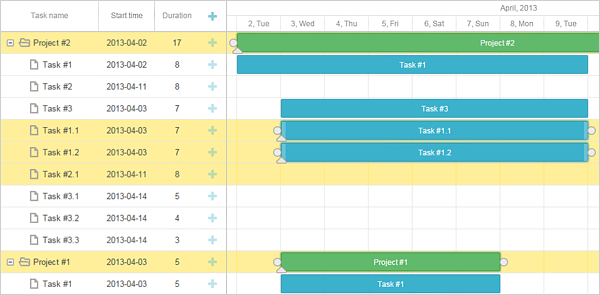 And one of the most important fixes is improving performance of critical path that increases speed of its loading and work in general. Apart from it, we've added a great number of new API methods, configurations and events.
Check the description of all updates in our docs. Please note that some of the described features are available in PRO Edition only.
You may download the Standard Edition of dhtmlxGantt 3.2 here. The PRO users with active support subscription will get the update via email.
In a few days we'll publish the overview of all samples and other new addings that we have in dhtmlxGantt 3.2. Stay tuned!