Abraham Lincoln once wisely said, "Don't worry when you are not recognized, but strive to be worthy of recognition". That's exactly what we are trying to do at DHTMLX. Our team is committed to providing JavaScript tools and supporting our clients in achieving their web development goals. And it is great to know that our efforts are appreciated. Reviews from our customers helped us again get high rankings in several categories of the latest Spring 2022 reports released by the G2 review platform.
High Performer Award


We've been very pleased to see DHTMLX in the High Performer list among component libraries. We are not debutants here, but it is the first time that we've been placed on the top spot. We are especially happy with our high ratings in various satisfaction criteria. For instance, we got the best score in the category Likelihood to recommend (98%). We also received 95 out of 100 points in Net Promoter Score, in which we outperformed such companies as Kendo, Syncfusion, and DevExpress, and ranked 2nd just behind SQL Server Data Access Components.
Our other noteworthy results in satisfaction ratings for UI components:
Product going in the right direction (100%)
Ease of doing business with (100%)
Ease of use (97%)
Quality of support (97%)
Momentum Leader Award


The Momentum Grid Report also named DHTMLX a Momentum Leader in the category of trending UI libraries. This award is given to IT companies with high satisfaction ratings, significant web presence, increasing number of reviews, and employee growth. In general, this report offers valuable benchmarks for product comparison and market trend analysis.
Apart from that, DHTMLX is presented in two G2 reports dedicated to project management tools – Grid Report and Momentum Grid Report. It is really nice that this area of our expertise hasn't been overlooked. In these reports, we received Leader and Momentum Leader awards correspondingly.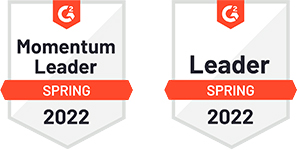 Final Words
Thanks to unflagging support from our customers and their great reviews on various platforms, more and more web developers have a chance to learn about the advantages of using DHTMLX products. At the same time, unbiased estimates of our JavaScript libraries also help us to determine things that can be improved in the future.
For those who are used to relying just on personal experience, we offer free 30-day trial versions for all libraries from our product portfolio.