The DHTMLX team wasn't left without a pleasant gift during the Christmas holidays thanks to positive reviews from real users. DHTMLX products received multiple awards in the latest Winter 2023 reports from the G2 platform. Our JavaScript components were recognized not only in already familiar categories but also in some new ones, which we will highlight in this article.
Easiest to Do Business With Awards
In G2's Relationship Index Report for Component Libraries, DHTMLX comes out on top as "Easiest to do business with" for the Winter 2023 season. It is the first time we are honored with this award, which acknowledges our longstanding aspiration to be a straightforward and reliable partner for our customers.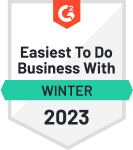 Moreover, we also received a similar award in the niche of small-scale businesses. To win these awards, we had to earn the highest "ease of doing business with" scores in the competitive struggle with the best businesses in the industry like Syncfusion, Progress Kendo UI, DevExpress, etc.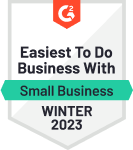 Such awards will certainly give us extra motivation to work even harder on optimizing our approaches to interactions with customers.
High Performer Small-Business Award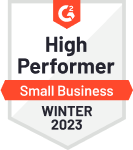 Genuine reviews from small teams also helped us to make a debut in G2's Small-Business Grid Report. DHTMLX was named a High Performer in the category of UI Libraries. The scoring methodology here is based on the combination of two main parameters: customer satisfaction and market presence. We are glad to note that DHTMLX received the maximum scores (100%) in the following customer satisfaction criteria:
Product going in the right direction
Meets requirements
Ease of doing business with
Ease of use
It is very inspiring for the whole DHTMLX team to know that customers appreciate our efforts to make them happy.
The long-term presence in G2 rankings is also an important sign of recognition. That is why we are delighted to maintain the titles of a Leader and a High Performer in the latest Grid reports for Project Management Tools and Component Libraries respectively.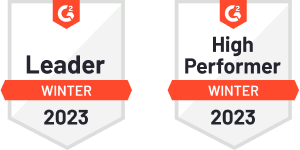 Final Words
We have been providing high-quality JavaScript components for business apps for almost 20 years. It has always been extremely important for us to establish good and trusting relationships with all our customers, from small startups to medium-sized and large corporations, and be able to offer advanced solutions for any budget. And we are very happy that this approach brings positive results such as awards from popular software review platforms. We are grateful to all our customers who share their practical experience with DHTMLX products and wish you more successful projects in 2023!