We at DHTMLX strongly believe that hard work always pays off. And it is good to know that the great efforts and dedication of our development team to providing the web development community with quality JavaScript components hasn't gone unnoticed this year. We are excited to announce that DHTMLX received several awards from two influential software review platforms – G2 and Crozdesk.
High Performer Award from G2
G2 is a widely used peer-to-peer platform designed to accumulate user reviews on business-oriented software. Using this online resource, buyers and sellers of software solutions and services from all over the world can get what they really need. Vendors have an opportunity to expand their market presence and reach more potential customers. Technology seekers get access to a constantly growing base of unbiased and validated reviews on products from actual users helping to choose the right tool for specific business goals. G2 also regularly provides reports that acknowledge the success of the most highly rated products in terms of customer satisfaction and market presence.
According to the latest G2 Grid Report, DHTMLX was named a High Performer in the summer of 2021 in two categories – Project Management Tools and Component Libraries.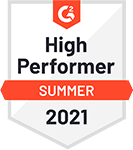 There are two main criteria that DHTMLX had to meet to become a winner in this quadrant:
High customer satisfaction level
Low market presence compared to the rest of the category
Awards from Crozdesk
Crozdesk is a modern software discovery platform that helps to simplify the software selection process. Taking advantage of user and expert reviews, informative product profiles, rankings, and other useful materials, individuals or companies from various sectors can find suitable business software for all purposes.
Every year, Crozdesk gives out Software Awards to the most notable software solutions determined with the help of a special fully automated AI scoring algorithm known as Crozscore. This algorithm takes into account reviews from Crozdesk and external sources, the estimated number of users, press mentions, online traffic, and other factors.
In 2021, Crozdesk also recognized DHTMLX JavaScript libraries. We received three award badges in the following categories:
The Quality Choice badge indicates that DHTMLX products are positively distinguishable from other solutions on the market thanks to their high quality. Approximately a third of Crozdesk vendors get enough rating points (80 or more) on Crozscore to be rewarded with this badge.
The Happiest Users badge means that our JavaScript libraries gained a lot of positive reviews on Crozdesk and other external resources. The Crozdesk statistics say that only 10% of solutions receive this kind of recognition.
The Trusted Vendor badge confirms that DHTMLX has a strong presence in the software market. The Crozscore algorithm automatically determines the winners with the help of various criteria. Just 20% of software providers get this badge.
Final words
Lastly, but most importantly, we would like to say thank you to all of our customers. All these honorable awards wouldn't be possible without your great reviews on the use of our products in real projects. We truly appreciate that and will continue doing our best to deliver new JavaScript solutions and reliable technical support for your businesses.
For those who still haven't worked with our products but have an interest in trying them in action, make use of free trial versions for any tool from our product portfolio.