dhtmlxGantt PRO Features Overview
Professional edition of dhtmlxGantt offers extended functionality and a set of extra features that you might need to make your software more powerful and outstanding. Below is a brief summary of all PRO features.
Resource management
With dhtmlxGantt PRO Edition you can assign resources (human, equipment, money, etc.) to the tasks and be able to estimate the workload of each separate participant of the project. Balance and manage the resources easily using resource diagrams.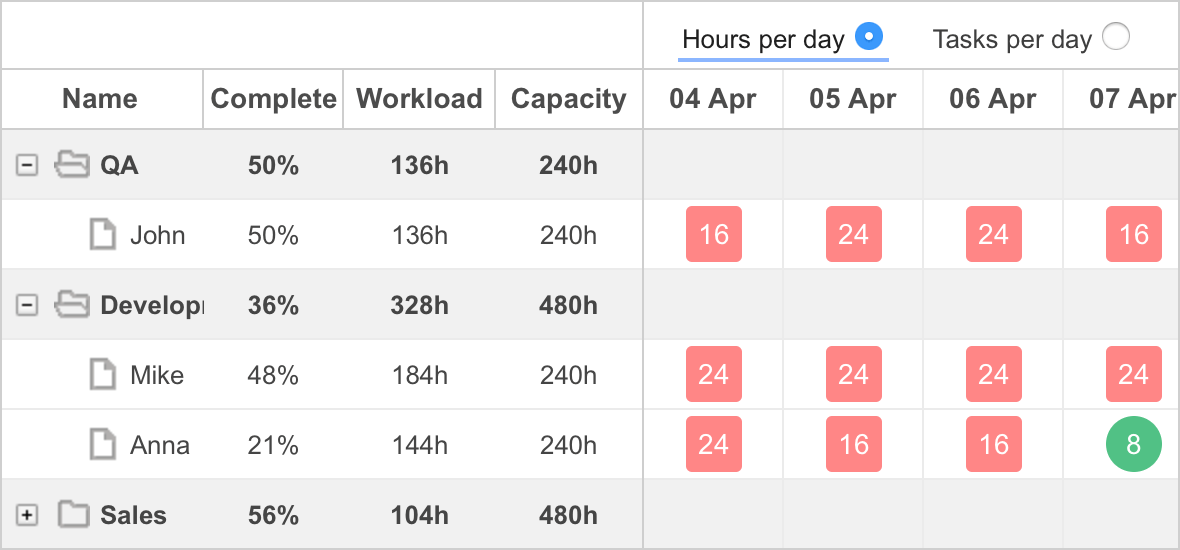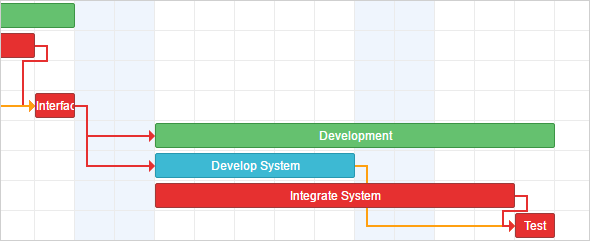 Critical path calculation
Each project management app requires feature for estimating risks and deadlines, and for these purposes critical path calculation is used. It allows you to estimate and display a sequence of tasks that can't be delayed or else the whole project would be delayed.
Support for baselines, deadlines and other custom elements
Set any additional elements to the timeline area. Apart from baselines and deadlines that you may find in our samples, there could be any custom elements that you need.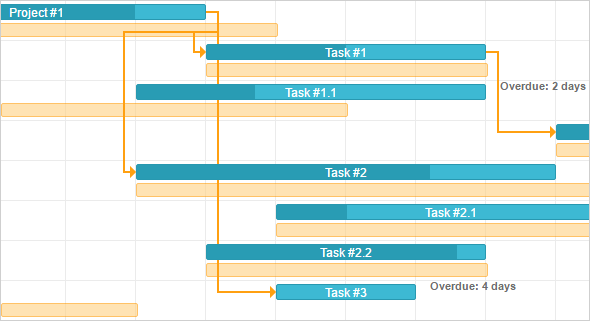 Simple API for hiding/showing columns of the grid and the ability to resize grid columns and the grid itself from the UI
Using the PRO version, you'll have the ability to add and remove columns from the grid part directly from the UI. You can also resize the columns width just by dragging its border.
Dynamic loading
To increase the performance of your Gantt Chart, you may enable dynamic loading mode to make the tasks load level by level as the user scrolls the page.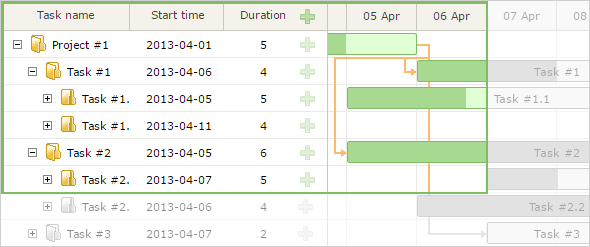 Tasks grouping
Group the tasks in dhtmlxGantt by any property. For example, grouping the tasks by owner, you'll see the workload of all team members.
Auto scheduling
This feature allows you to navigate the project without setting the specific dates of each task as the tasks are scheduled automatically based on dependency links between them.


Project and milestones task types
PRO Edition allows you to unite tasks into Projects that will have the duration of all the child tasks. Milestones can be used to indicate some specific and important dates in the project.
Split Tasks
Splitting tasks is an ability to divide tasks into subtasks and switch between the 'split mode' and 'tree mode' of task display whenever needed, what gives much more flexibility in task management.


Setting Task Types Automatically
Editing gantt chart contents is much faster and easier with an ability to set task types automatically. The component knows when to convert subtasks into projects and projects with no subtasks into tasks while end users are in the process of editing their gantt chart.
Ability to place several Gantt Charts on the one page
*
If you need two or more Gantt charts on one page, use this PRO feature and manage several projects with different data in it.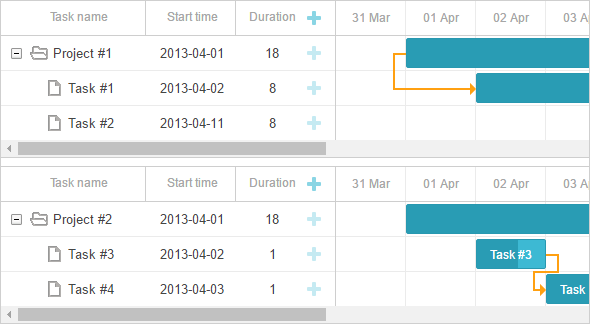 *The ability to display multiple Gantt charts on one page comes with Enterprise license only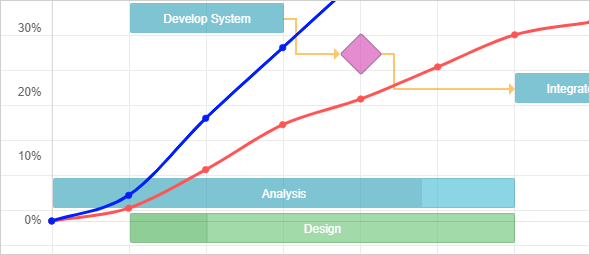 Showing custom content atop of Gantt (e.g. S-curve)
Our library allows you to add any content you need on top of Gantt. For example, you can create a special layer with an S-curve for illustrating changes in resources like an increase in expenses or overall progress of your project.
Tasks constraints
Apart from common task dependencies, there are additional constraints that you can put on separate tasks in order to manage the project's schedule. Tasks' constraints are divided into 8 types: as soon as possible, as late as possible, start no earlier than, start no later than, finish no earlier than, finish no later than, must start on, must finish on.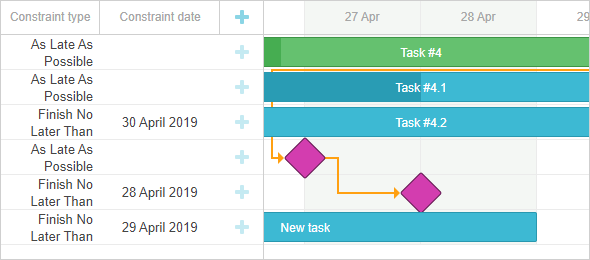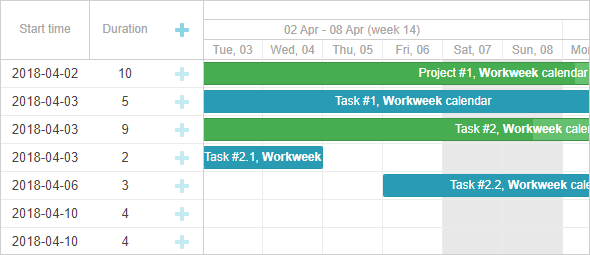 Working calendar for the whole project
Our Gantt chart enables you to define a working calendar not only for a separate resource but also for the whole project. Thus, a task will inherit the calendar of its parent-project if there is no other working calendar defined for it.