Today we are talking to Raffaele Marranzini, the CEO of Lean IT, the Swiss software company specializing in product lifecycle management (PLM) solutions. We are proud that Lean IT has relied on our Gantt chart to embed it in their cloud-based application for product and project management. Raffaele shares their company's story and experience with DHTMLX Gantt in a 30-minute interview.
Raffaele, thank you for being our guest in the interview today. Please tell us about yourself and your role in Lean IT.
My name is Raffaele Marranzini. And it's nice talking to you. I'm the CEO at Lean IT Consulting. My role is being the CEO around marketing, sales, defining strategies, defining the vision.
Lean IT Consulting was born as an IT consulting company, as the name suggests. Over time we specialized in PLM – product lifecycle management. So we provide IT services for large companies requiring a product lifecycle management system.
PLM is basically a group of processes that help companies manage their product data from the ideation phase until the withdrawal from the market of their product.
We also deal with life science companies, even though we are not limited to that. And that's in a nutshell how we were born.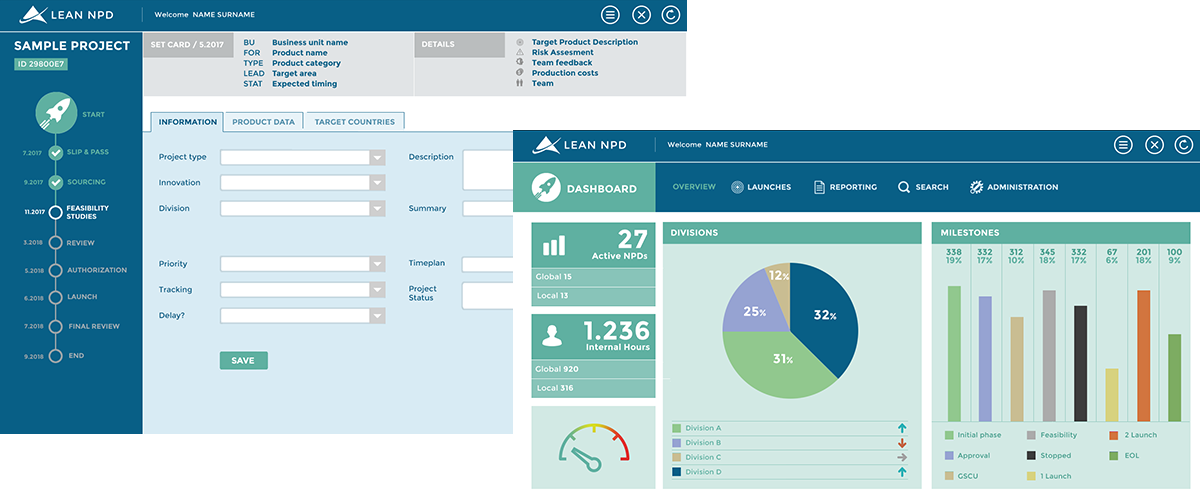 Source: Lean IT
The core of our skill is around software development, software analysis, implementation, and testing. A couple of years ago, we decided to differentiate our offering with not only services but also products. We leveraged the experience we made during the years on PLM to implement a few products that would help large companies to deal with the initial stages of the life cycle of the product, which is basically the innovation management piece.
By innovation management, we mean the very early stage when you do not have a product, you just have an idea. You formalize this idea into an idea management system. Once your idea is mature enough, it gets transformed into eventually something real – the development of a new product.
This is where the second chapter of innovation management comes into play, which is the new product development project.
It is a project with a number of tasks where you assign resources, which could be a person or a team or whatever. This project has to go through a number of milestones or stages or gates. This is very common in the entire project and program management area.
This is where the third part of our software comes into help – launch management. By launch management, we mean managing the business case for a particular launch. You make a forecast of how much sales you expect to have for that particular product. And maybe you also evaluate how much money you are expecting to spend in terms of advertising. Once your project is approved and rolling, you will organize to start production of your product, you decide where to produce it, and when it should be shipped to the stores. The objective there is to reach your customers on time.
One of the pain points we keep hearing from our clients is that their go-to-market time is too long. A good innovation management system like ours, hopefully, will help them reach the market more effectively and in time, meaning that they have realistic planning in terms of money and time. This is what our product does.
With the help of DHTMLX Gantt, our tools will help clients to decommission legacy and standalone tools that may not be suitable to scale up together with the business. We also have vast capabilities in terms of integrating with third-party systems that may already be in the client's IT landscape. We believe that our tools will certainly help our clients to obtain relevant efficiency gains as a result of better information sharing and collaboration, optimal project scheduling, and extensive resource management.
So DHTMLX Gantt is part of your PLM software?
Where is DHTMLX into this picture? We purchased the Ultimate license for DHTMLX Gantt. We are embedding your product into our software. Especially for the parts where you will need the project schedule, the project Gantt, like for the NPD management. New product development management is a lot about project management and about program management.
We were initially planning to support only the management of the schedule in MS Project itself. Based on our understanding of the market, many clients liked to continue using MS Project in whatever form, on the desktop, on the web, or on the intranet, because it's a market standard.
We said clients want to use MS Project, let them continue to use MS Project. So our application would interface with MS Project files or for the server – with their APIs to pull schedule data from wherever it is. If it's in a file, our product would parse the file and figure what data exactly is in the file itself.
And this worked okay for larger clients. However, we realized that there is a fair number of clients that did not require all the complexity that is within MS Project because obviously, MS Project has 20+ more years of experience. It is a market standard, but it's also offering a number of features that people do not use or do not need or do not even know about. And also there is a large number of smaller companies that didn't want to make an investment to buy MS Project licenses for their project managers because it's a relevant investment. So they were preferring to do fancy things like continue using Excel, which is probably the worst solution ever.
So we thought it would have been great if we could offer an alternative. And this is where your product comes into play. We said, okay, let us not only offer integration with MS Project in all its forms but let us also offer an embedded solution for project schedule management, for project Gantt management.
We are currently working on embedding your DHTMLX Gantt inside our application in order to allow the management of schedules directly embedded into our application. No more files, no more external systems to connect to. We just add your library, your Gantt to our application, which is, by the way, a web application. We embed your thing into our software so that it would store project data not on files but on a database, in our case, it's a Mongo database, a NoSQL database. You can actually do the project management part directly within our tool without having to install or buy anything else. It's a ready-made solution that you can just purchase eventually on the cloud and use it. That's the idea behind the purchase of your license.
What we are doing right now is to develop the backend to your frontend in order to implement all the logic required to save in the NoSQL database, to do data analysis once the data is there and reporting. We are hoping to be ready with that somewhere in the next few months. And we are going to offer that mainly on the cloud. Our solution is a cloud-based solution.
If that is not the case, if that is not working for a particular client of relevant size, we can also evaluate the opportunity to install our software on-premise at the client-side so that they have all their data in their own data centers, not necessarily on the cloud. In the beginning, like a year ago, talking about cloud-based solutions for new product development projects was kind of scary to the clients, because obviously thinking that all your innovation pipeline is somewhere in the cloud sounds scary. Recently this has been less the case. In fact, our cloud-based solution is working okay.
How hard is it to implement DHTMLX Gantt in your application from the technical point of view? Is it hard to learn the API?
Understanding the basics of your API was okay. It did not take longer than it took for other APIs we had to learn.
The largest amount of time we have invested so far, however, was in trying to figure out what is the solution to performance issues we have found with your product. We realized that when a project extends for a very long amount of time like eighty years, which might be the case for a complex new product development project, the performance of your application, of the frontend of your application, becomes very slow. We had to fight our way around it in order to make it work.
There has also been quite some time invested from our side to learn how you implemented parts of the logic that you embedded within your tool. In Microsoft Project, you deal normally with schedule dates and actual dates. A schedule date is what you initially planned and an actual date is what actually happened, when a task actually started, when a task actually ended, how much time it took. Based on the feedback I received from our developers sometimes your tool applies some logic to make a distinction between the two or it doesn't make a distinction between the two, which took us a while to figure first and to adapt.
Second, the most time-consuming part with your product was dealing with your support. We have the highest possible license, which means that you are supposed to answer within a very short time. We are fairly happy with your timing. But the part where we invested a relevant amount of time was explaining what the issue was to your support team and helping them to replicate the issue. They have a sandbox of some kind that we have to configure for them to actually see the issue happening. Our recommendation would be instead of us investing time to precisely replicate the issue for you, you invest that time. Hopefully in the end it would be less work on our side even though it takes a little longer for the issue to be resolved.
It's precious to get such feedback. We will discuss it and find ways for improvement. I have just a couple of questions left. What other technologies do you use with DHTMLX Gantt?
We are working on Java mainly. The framework we are using in Java is Angular.
And why did you choose DHTMLX Gantt, all in all?
Because we have been doing a thorough software assessment of your product when compared to other products. And what convinced us was the amount of features that your product was offering and which is larger based on our understanding when compared to your competitors we found.
Could you name the most important features that influenced your decision to choose DHTMLX Gantt?
The first one that pops into my mind is the ability to export or import from MS Project and other formats like PNG, PDF, Excel.
Raffaele, thank you for spending your time with us and sharing your experience of working with DHTMLX Gantt! We appreciate your feedback and ideas and we'll be looking forward to the launch of your project involving our Gantt chart.

Our readers can get acquainted with other DHTMLX clients' stories on our blog. If you are new to DHTMLX, learn more about our HTML5 Gantt chart on our website.