dhtmlxChart is a JavaScript charting library for generating cross-browser HTML5 charts. It supports the most common chart types: line, spline, area, bar, pie, donut, scatter, and radar charts. For complex charting needs, you can create a chart series, plotted separately side by side, or stacked. You can also display a combination of different charts types on a single chart (e.g. combine line and bar charts).
The charts can be loaded from XML, JSON, JavaScript array, or CSV and updated on the fly (by using Ajax) to show changing graphical data. You can easily customize the chart appearance by configuring any chart elements: colors, tooltips, scales, templates, labels, etc.
Live demos
Area Charts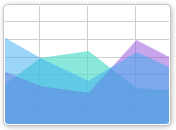 Bar Charts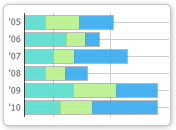 Column Charts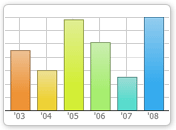 Donut Chart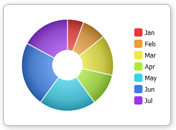 Line Charts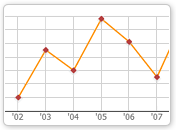 Pie Chart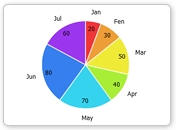 Radar Charts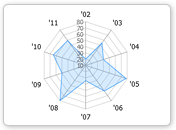 Scatter Charts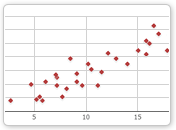 Spline Charts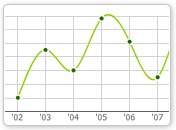 The dhtmlxChart library is written in JavaScript using Canvas and works in all major web browsers: IE, FF, Safari, Opera, Chrome, or any other browsers based on Mozilla or the Webkit engine. In the old versions of IE, dhtmlxChart uses VML (excanvas.js library). You can use dhtmlxChart with any server-side technology to represent your data in the most convenient and descriptive way.
As part of DHTMLX toolkit, dhtmlxChart is compatible with other DHTMLX components. If you put dhtmlxChart within a cell in dhtmlxLayout, the chart will adjust its size to the size of the layout cell. You can also bind these HTML5 charts to dhtmlxGrid to display charts generated from the grid data.
View Feature Details
Editions and Packages
dhtmlxChart is available in the Standard Edition only. Download and use dhtmlxChart for free under GNU GPL v2, or buy a Commercial or Enterprise License to use this component in a non-GPL project.
You can download dhtmlxChart standalone or get it with other DHTMLX components included in the dhtmlxSuite package.
Licenses
Open Source - GPL - Allows the use of dhtmlxChart in GPL-licensed projects for free.
Download
Commercial License ($49) - Allows you to use dhtmlxChart in one project (application) with an unlimited number of copies. With this license, you receive 1 month of technical support (or 5 support requests within 12 months).
Buy it
Enterprise License ($99) - Allows you to use dhtmlxChart in an unlimited number of projects on the condition that all of them are developed by one company. Free support/upgrades are provided for the first 12 months.
Buy it
When you buy the dhtmlxSuite Commercial or Enterprise license, you get dhtmlxChart for free, in addition to the other DHTMLX components. See the details.